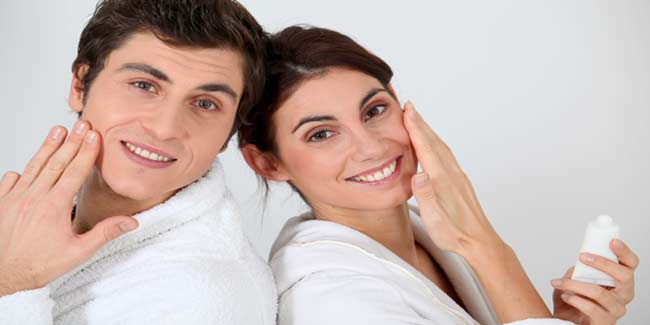 There is something very divine about masculinity, ever since the great Achilles was immortalised by Homer in The Iliad. The modern world however do not really care about masculinity in its true sense, men are increasingly becoming more metro sexual, and looking good is no more a virtue reserved for the ladies.


Men however, have different concept about masculine beauty in comparison to feminine ones. But never the less a bit of cheating wouldn't harm, so here are a few feminine beauty tricks that a man can safely steal for himself:
No washing Face with Soaps: While it may seem that women overdo when it comes to using face products, men must know that they are not doing a great job either. Using all purpose soaps for the face needs to stop, as these tend to make your skin dry.
Conditioning your hair daily:

You know how you look at her beautifully smooth hair, and go all mushy? That hair does not come easy, a lot has to be done, but above all daily conditioning is a must. She never misses to apply conditioner on her hair, and so you mustn't too, if you really want nice and smooth hair!
Washing Face Every Night: You will notice that women wash their faces every night, and this is a very good habit. This practice is good especially for those women who apply makeup on their faces, as these build pores and can cause acne. If you are applying any facial product in the day time, then you must wash your face every night. Anyway, washing face is good as it will remove all the dirt and dust that settled on your face over the day.
Exfoliate: Yes, a very womanly thing to do, but if you do care about your skin, then you will go ahead with it. This will help to clear the dead cells on the outer layer of the skin, which is important for your skin.
Moisturiser: It is important for you to use a moisturiser, as harsh soaps and sun rays can make your skin dry, be sure to apply moisturiser every day after a nice and fresh bath.
Daily Floss: Now this one irrespective of being male or female can be done and should be done. This is important because it will help you maintain good and healthy teeth. The plaques that build up in between your teeth are the cause of cavities and gum diseases, and no one wants them! So, you should floss your teeth daily, its good hygiene and a healthy habit.

Men will probably always be men and will most times forget to follow the above given steps diligently. But if followed with dedication, they can make a lot of difference.
Read more articles on Skin Care