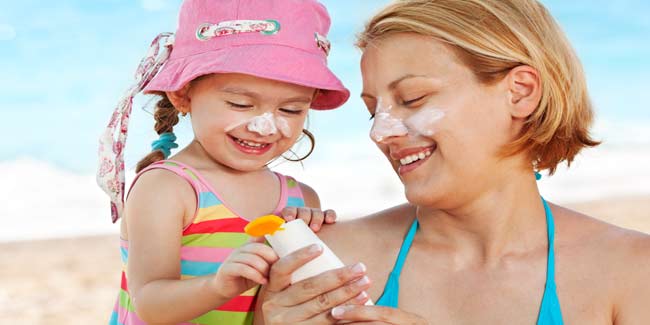 The skin of the kids is very clear and sensitive and all it needs is proper care. If you are a proud parent of a little kid then you might be searching for some safe beauty tips to make your innocent child look even more beautiful. Beauty tips for children do not include synthetic make-up products; instead they include an extensive care starting from skin to health. Before choosing any skin care or health products for your kid, do a little bit research over the brands as you must choose the right product, which is free from any side effect. You need to take some extra care to keep your sweetheart healthy and glowing as this is the growing time for your little one.
Here are a few things that you need to be careful about, while bringing them up.
[Read: Skin Care for Kids]
Good Food Habits


Not just adults, even kids need a healthful diet to keep their skin nourished. Lotions and shampoos are attempted cures, but not preventions. Add lots of fruits and green vegetables in your child's meal. Keep them away from spicy and junk foods. You can give them a few chocolates, but make sure that they are rationed. Encourage them to eat good wholesome food like milk, cheese, eggs, fish and meat.
Hair Care for your Kid


Make your kid follow a healthy lifestyle. Teach your little one to keep their hair neat and clean. Choose a mild shampoo and baby hair oil for him or her and brush their hair regularly to keep them in good condition. Regular trims and oil massages help in maintaining soft, shiny and conditioned hair. At this age, it is always better to keep hair short so that they are well maintained and nourished, but if you want your baby doll to flaunt long tresses, then keep her hair tied up in braids or plaits, but avoid using rubber bands as they can damage her hair.
[Read: Teach your Child Hair Care]

Sweet Dreams


According to Kids Health, "school-age children and preteens should ideally be getting 10 to 12 hours sleep at night". Keep your kid away from getting dark circles and puffy eyes by setting a bedtime. Allow your child at least half an hour to relax and unwind before settling down for the night. Routines like bath time and reading help, even for older kids.
Well Scrubbed


Kids are blessed with soft, clear and smooth skin. You may help keeping it that way by setting up a daily bathing routine, using only mild products. A proper cleansing is a must as they play with the mud and dirt. Wash their face, hands and feet with baby soap as soon they return home after playing. Always sponge your little one with a soft towel and don't rub as it may damage their sensitive skin. Use baby lotion to cleanse and moisturize their skin. Their nails should be kept clean and shaped, and teeth should be brushed twice a day. Regular dental checks are a must.
[Read: Grooming your Child: Dental Care]

It is advised not to experiment with your kid's skin and always use products of reputed companies that have gone through proper dermatological tests. Try to maintain a healthy lifestyle. Don't let your kid watch late night movie or playing video games after dinner.



Read more Articles on Beauty & Personal Care.