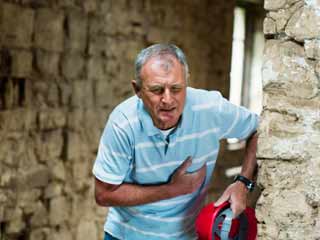 According to ayurveda, poor diet, stress, unhealthy lifestyle causes accumulation of toxins in the body, which also results in heart disease. Ayurvedic treatment of heart disease aims to clean the toxins from the body.
Heart diseases (coronary heart disease--CHD) are common problem worldwide among middle-aged and elderly people and have become increasingly common in younger individuals too. It is a leading cause of deaths and disability worldwide. Poor dietary habits (high intake of cholesterol, fat), hypertension, sedentary life style and cigarette smoking are some of the known risk factor which leads to deposition of fat in the arteries of the heart (atherosclerosis) and coronary heart disease.
According to Ayurveda, poor diet, stress, unhealthy lifestyle causes impairment of digestion which causes accumulation of toxins in the body. These toxins get deposited in different part of the body, such as the coronary artery that leads to obstruction, poor circulation and causes various forms of heart disease. Ayurvedic treatment of heart disease aims to clean the toxins from the body and restore digestion to avoid further increase of blockages in the body.
Ayurvedic Treatment for Coronary Heart Diseases
Ayurvedic practitioner generally advices lifestyle change and herbal supplementation for reduction of coronary risk factors including heart failure and heart attacks.
Yoga, exercise and meditation: Yoga, meditation and exercise improve physical stamina and provide mental relaxation. Ayurveda recommends mild physical exercise for all individuals for primary prevention of coronary heart disease. If you are not used to exercise, start exercises as advised by your physician. Exercise promotes development of collateral blood vessels in the heart and retards progression of atherosclerosis. Thus yoga helps in the prevention of heart blockages.
Herbal medicines: The cardiovascular active herbs include Allium sativum (garlic), Centella asiatica (manduka parni), Commiphora mukul (guggulu), Convolvulus pluricaulis (shankhpushpi), Emblica officinalis (Indian gooseberry), Nardostachys jatamansi (jatamansi), Ocimum sanctum (basil), Myristica fragrans (nutmeg), Terminalia arjuna (arjuna), Terminalia chebula (herde), Tinospora cordifolia (guduchi), Trigonella foenum-graecum (fenugreek), Withania somnifera (ashvagandha) and Zingiber officinale (ginger). The ayurvedic preparations contain all of these herbal medications, a combination of these or can be a single herb formulation. These medicines are part of the ayurvedic treatment for heart diseases.
Terminalia arjuna, Commiphora mukul, Allium sativum, Emblica officinalis, Trigonella foenum-graecum, Ocimum sanctum, Withania somnifera and Zingiber officinale have significant cardiovascular benefits and reduce atherosclerotic risks. The cardiovascular effects of these herbs include reduction of cholesterol, decrease of blood pressure, inhibition of atherosclerosis and improvement of circulation to heart, thus reducing the risk of heart failures and heart attacks.
Caution with ayurveda: The ayurvedic remedies are effective in treatment of heart diseases, but if you have an acute severe cardiac problem consult a allopathic physician. Some of the herbs can interfere with platelet function and increase the risk of bleeding if you are taking antiplatelet drugs. Interactions between certain herbs and drugs with a narrow therapeutic window, such as warfarain and digoxin can occur. Inform your allopathic physician if you are taking ayurvedic treatment for your heart ailment.
Read more articles on Heart Diseases