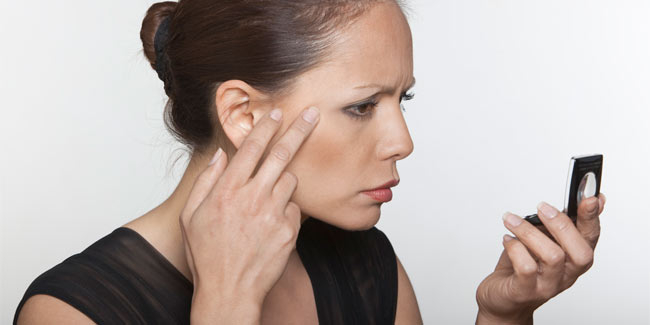 If your skin is lacking glow due to ageing, add life to it by using concealing make-up. Find quickies to give your flaws a fix.
Ageing takes a toll on your skin by the appearance of wrinkles, fine lines, age spots and sun induced damage, but there's make-up to bring back the smile on your face.
Make-up, if applied in the right way can hide flaws, accentuate the best features and take away some years from your appearance. Here's how to go about applying make-up for ageing skin.
Hydrating Make-up

Make-up that has hydrating properties works well for ageing skin as the latter is generally found to be dry. When make-up is applied without any moisture in place, it tends to settle down between the lines and creases on the face making it visible. Make-up should be applied on a well moisturised skin. To start, wash your face and pat dry as to leave a little dampness behind. Apply moisturiser on the damp skin as it locks moisture in, making your skin smooth for the make-up to be applied nicely. Do not use heavy foundations as they end up making your face look cakey, instead use a hydrating foundation which is lighter with vitamins that nourish your skin.

Age Concealing Make-up
Ageing skin lacks glow because of dryness and natural thinning of the skin. Make-up which is in warm colours will add life to a dull face. Use a foundation that is a shade lighter than your skin tone, but it should blend in naturally to your original colour. You may try it on the inside of your wrist area to choose a compatible shade. Use a light concealer to hide your dark circles and spots. Application of blush should be such that it accentuates your cheekbones, so apply it high on the apples of the cheeks to give apt definition.

Softer Hues
Use softer and near-to-natural looking colours on your face as they blend in more easily and do not look striking. Ageing skin does well with mellow colours as it gives a refined look. So, whether it is the blush on, lipstick, eye shadow and others, just stick on to mellower tones. Black mascara or eyeliners should only be used when your hair or hair colour has not grayed.

Plump it Up

As we age, lips get thinner especially the top lip. This shrinking of lips cannot be stopped but can be camouflaged by the right techniques. Choose the right lip colour; "soft" colours are the buzz word here. Application of a lip balm first will help the lipstick glide, use a liner to give definition to your lips and lip colour. Apply a touch of gloss on your lip colour right at the centre of the bottom lip to give an illusion of fullness.

Read more articles on Anti-ageing.