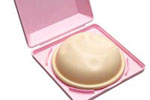 Cervical cap has numerous advantages and as many disadvantages. Despite all these positive and negative effects, it is an appealing way of contraception for women.
Modern medicine and researches have contributed much to the methods of contraception, and cervical cap is one of them. This is a type of contraceptive specially made for women.The effectiveness of a cervical cap can be increased by using it along with other contraceptives such as condom and spermicide. It acts as a barrier between the male sperm and female ova by inhibiting the sperm from crossing the female cervix.
[Read: How Effective and Safe is Cervical Cap]

About Cervical Cap

The book Women's Gynecologic Health defines cervical caps as cuplike devices that cover the cervix. "Smaller than diaphragms or vaginal barriers, they maintain their position over the cervix by suction, adhering to the cervix, or via a design that uses vaginal walls for support."
[Read: What is Birth Cervical Cap?]

This alternative contraceptive is a convenient, inexpensive, non-hormonal and non-invasive method and much of its popularity in the modern times can be attributed retrospectively. The cervical cap has the potential for better effectiveness if it is custom made in order for it to have a better fitting. The awareness needs to spread regarding the effectiveness of the cervical cap with the help of medical practitioners so that more women turn to this contraceptive method as an alternative to oral contraceptives and intrauterine devices. It is important for medical researchers to document the most accurate method of cervical cap fitting and their rate of effectiveness. The cervical cap has been found to eliminate many of the previously cited disadvantages of barrier contraception. It is good news for people as this cap does not interfere with intercourse and also does not require daily client involvement.

Advantages of Cervical Cap

Cervical caps are safe and easy to use.
They do not cause urinary tract infections.
They are relatively cheaper than other contraceptives.
Since a cervical cap is designed exclusively for women, its usage is totally under the control of the woman using it and therefore, does not have to take permission from her partner for it.
A cervical cap if used once can protect the woman against pregnancy for 48 hours and for multiple acts of intercourse performed during this time.
Cervical cap if placed properly does not cause any discomfort to either of the partners while they are having sex.
It does not involve any hormone and therefore, does not cause any major side-effects.

Disadvantages of cervical cap

The biggest disadvantage of a cervical cap is that it doesn't provide any protection against sexually transmitted diseases such as HIV, syphilis and gonorrhoea.
A woman may find it slightly difficult to insert the cap properly. To evade this problem, women are recommended to purchase one that is custom made or ask their physician to insert it for the first time. Kerri Durnell Schuiling and Frances E., Women's Gynecologic Health suggest that women who have difficulty in inserting or removing the cervical cap will need additional teaching and counseling to use this contraceptive method consistently and correctly.
If used for more than 48 hours, it can increase the risk of developing toxic shock syndrome and various vaginal and urinary tract infections.
Cervical caps contain spermicides that kill sperms during intercourse. Some women may be sensitive to these spermicides, which can thereby cause rashes, pain, swelling and redness of the vagina.
As the cervical caps remains tightly fixed on cervix for long durations, it may cause the cervix to swell.
Cervical cap is not suitable for women who have had a normal delivery.
Use of cervical cap produces unpleasant vaginal odour.

The success rate of cervical cap can be increased if the instructions for use are followed strictly. If used properly, cervical cap can prove to be the safest way of contraception. Always consult a doctor before using one as this will remove all doubts.

Read more articles on Contraception.