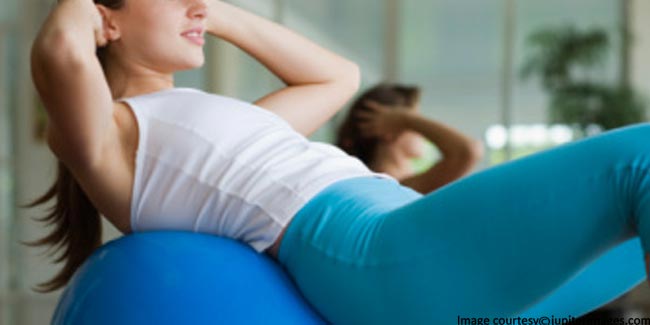 There are several precautions that pregnant women need to take while doing abdominal exercises during pregnancy. Jumping or bouncing, lying on the back or any exercise which puts undue pressure on your back needs to be avoided. However, during first trimester, there are some exercises of the abs that can be performed and they are actually useful in reducing the pain and time taken for delivery.
Since a woman is going to put on at least 25 pounds of extra weight, most of it centred on the abs, great strain on the back is inevitable. This makes it important for pregnant women to have strong abdominal muscles during pregnancy that will keep the back in shape. The exercises also prevent a separation in the muscles called diastasis recti, common during pregnancy.
Early Pregnancy Abdominal Exercises



Crunches
This a common exercise for abdominal muscles useful in early pregnancy. You need to lie on your back, keep your feet flat on the ground and bend the knees at 90 degrees. Put your hands on both sides of your head and raise the head towards the bent knees. You will have to contract your abs for this to happen. Make sure that your head and shoulders are raised slightly from the ground when performing this exercise.
Leg Lifts
Lie on the floor keeping the legs in front of you. Reach the tailbone with your hands by lifting the hips a little. Place your hands beneath the bottom of the tailbone. Raise both the legs 4 inches from the ground. Now, you need to try lifting your legs upto 45 degrees from the ground. Gently bring them back to the start position.
Side Lifts
Lie on one side on the floor. Bring out your left leg and left arm out with a slight bend. Put your right leg on top of your left leg while right hand is placed behind your head. You now need to lift your right leg up, fold the knee and drawing it towards your body, attempt to touch your right elbow with it.
Pelvic Tilts
This is a common pregnancy exercise safe even during late pregnancy. For performing it, come on all fours keeping the hands under the elbow and shoulders bent just a little. Now, contract your abdominal muscles while taking in your breath, tuck your glutes under and round the back. Follow this with an exhale and come back to neutral position.


Morning sickness and extreme fatigue may result in the inability to exercise during your first trimester, so resume exercising once these symptoms end. Abdominal exercises during your first trimester can strengthen your core, improve your mood and your fitness level, and make labor easier.
Read more articles on Exercises during Pregnancy