Amaranth or rajgira, are gluten free tiny, pseudo grains that are ideal for fasting foods. When you ground them, the flour is generally a pale ivory shade. Besides, being an ideal food during fasting, it is full of nutrition. You will be surprised to know that it contains more than 2 times the average amount of calcium and is loaded with iron, magnesium, phosphorus, and potassium. It's also the only grain known to contain Vitamin C. Now that you know why you should eat rajgira, how about trying rajgira paratha this navratri? Here is your recipe for the same.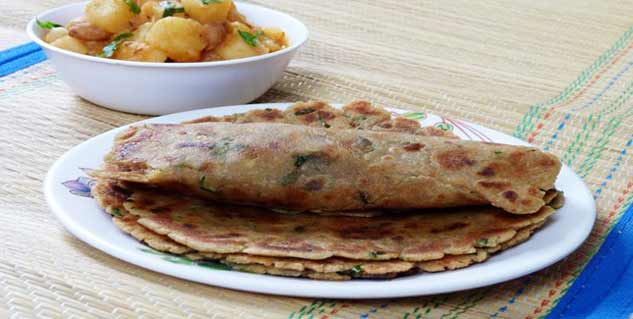 Things you will need to prepare rajgira parantha
¾ cup amaranth flour/rajgira atta
2 small to medium potatoes or 1 large potato, ½ to ⅔ cup tightly packed mashed potatoes, 100 to 125 grams
½ tsp cumin powder
1 or 2 green chilies, crushed or finely chopped or 1 to 1.5 tsp crushed green chilies
rock salt/sendha namak as required
ghee or oil as required
How to prepare the dough
Put 2 small to average size potatoes in a steamer or pressure cooker till they are thoroughly cooked and of a mashable consistency.
Now ground the amaranth seeds to form flour.
Now peel the boiled potatoes and mash them lightly and add to the amaranth flour.
Add the crushed green chili paste, cumin powder and rock salt (sendha namak). You can also add some chopped coriander and ginger paste.
Now knead the dough using 1-3 tablespoons of water. The addition of water depends on the quality of flour, therefore, add as accordingly.
Method of patting the dough
Keep a moist kitchen cotton towel on your place of work, take a small or medium sized ball from the dough and place it on the moist kitchen cloth.
Use your palms or fingers to gently press the dough ball and even out it till it increases in size. The edges will come out neat this way and are not uneven.
Roasting the paratha
Now gently take out the paratha from the cloth and place it on the hot tava.
Once one side is partly cooked; flip with parantha with the help of spatula. Use a non-stick pan or well seasoned pan as the paratha might stick.
Apply ghee or oil on this side. flip again and apply ghee or oil on this side.
Flip a couple of times till the rajgira paratha is evenly golden and roasted.
Serve them hot or warm with curd or any curry meant for fasting.
Image Source: Getty
Read more articles on Healthy Recipes