Many women feel embarrassed because either they have flat, shapeless bums or a soft, flabby and doughy butt that wobbles when they walk. The quads, hamstrings and glutes are some of the largest muscles in the human body and women tend to accumulate lots of cellulite in these areas. Moreover, because of the difference in their hormones, it is more difficult for women to lose fat in their lower body than men.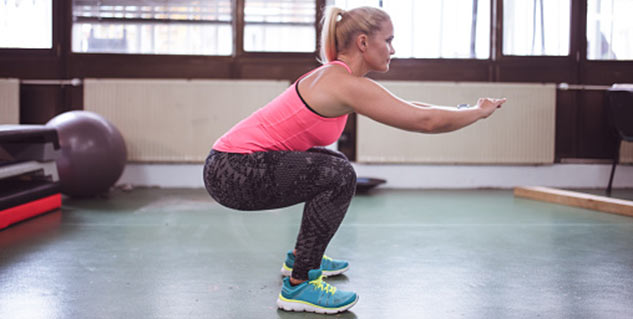 Nevertheless, it is very much possible to get a firm, shapely behind by proper exercise and healthy eating.
Special butt shaping exercises
Step ups, lunges and squats are especially good for the butt. Do them as much as you can and increase their intensity as you progress. As your strength and stamina increases, make your intervals for rest shorter. Climbing stairs is a very good exercise for the butt; make it a point to climb stairs instead of taking the lift whenever you can.
You can work towards a more curvaceous butt without gaining weight by developing the muscles in your glutes. Muscle building adds shape to the body, increases metabolism and helps in weight management. Follow a specialized strength training programme step by step to add curves to your lower body without weight gain:
Step 1: Engage in total body strength training three days a week, performing one exercise per body part.
Step 2: Train your glute muscles twice a week by doing lunges, stability ball leg curls, standing side raises and bridges.
Step 3: Perform sprint workouts twice a week to burn fat and increase definition in your thighs and butt. Sprint on the treadmill for one minute and walk for two minutes.
Step 4: Eat a healthy diet to prevent weight gain, including as much natural food as possible.
Having worked towards and achieved a toned, shapely butt, you will need to know some style tips to help you enhance it.
Tight and low waist jeans: The best type to flatter a curvaceous rear. Experiment with motifs and patterns on the back pockets to call more attention to a shapely behind.
Dresses fitted at the back: Short dresses, especially in dark shades including the all- time favourite black will accentuate a shapely butt nicely. The dress should be fitted across the back, clinging to the hips, and the hem fall just a few inches below the butt.
Hot Pants: There's probably nothing more flattering for a shapely butt than a pair of hot pants. Faded denim with ragged edges will work very well. You could also experiment with colours like cherry red, burnt orange or black.
Short skirts: Very short, flared skirts in solid colours look very pretty and sits well on a shapely butt. An executive skirt, but shorter and more informal, in either denim or lycra will work well.
Shoes with thin heels: An absolute must if you want to show off a curvaceous butt. To be worn with anything you wear, these will especially look good with short skirts and dresses.
Image: Pixabay