As we know, Holi is a festival of colours and one of the most celebrated festivals in the country. Originally, the festival was celebrated to mark the commencement of spring using colours made from flowers. Over the years, chemicals and harmful substances have replaced flowers. Today, harmful substances like mica, glass powder and acids are used that are capable of causing severe skin and hair problems.

So, one must take cautions at the time of Holi. Now you must be thinking of the ways in which you can protect your skin. Well, here are few of the tips to help you steer clear of any allergies.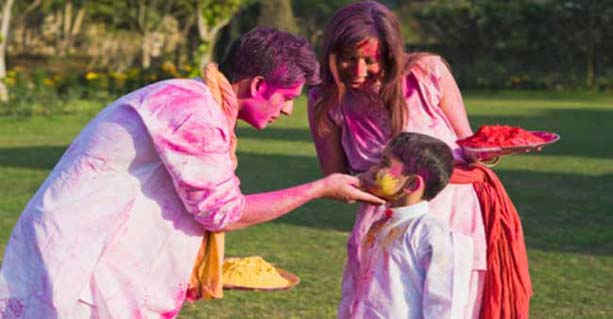 Skin Allergies
Eczema: One of the most common allergic conditions that occur due to artificial colours. It makes the skin appear scaly and inflamed. It causes blisters that lead to itching of the highest degree.

Rhinitis: This allergic condition causes an inflammation of the nasal membrane. In this condition, one experiences nasal discharge, congestion, itching, and sneezing.

Pneumonitis: This allergy occurs due to inhalation of chemically treated colours, wherein one experiences fever, chest, tightness, fatigue, and breathing difficulty.

Asthma: Artificial colours can cause damage to the airways, or developing asthma in this condition, one experiences breath shortness and difficulty in breathing.

Dermatitis: Another such plausible allergy is atopic dermatitis that occurs due to a chemical reaction of colours. The allergy causes severe pain, blistering, and itching.
Avoiding Skin Allergies
To be safe from allergies, one should apply moisturizing cream or lotions on the skin before playing Holi
After playing Holi, apply calamine lotion all over the skin—this remedy will help get rid of the colour from your skin easily
Do not use items like kerosene oil to relieve dark skin
Do not use laundry soap at all to avoid allergic skin; this can lead to more allergies
If your skin is sensitive then avoid rubbing the colour off your skin, rather remove it with slowly and steadily
One home remedy is applying curd to the coloured areas of the skin—this would not harm the skin in any way and curd will also moisturize your skin
Keep the children away from dark colours as their skin is sensitive and these colours can lead to severe allergies
Also, try and mix the colours in water to diminish their effect
Use good quality herbal colours and avoid using the cheaply available substitutes
Instead of using face wash or soap, use natural ingredients like curd, gram flour, or flour to get rid of the colours
Lastly, use cold water to remove Holi colours from your skin
Read more articles Festival Fever.